Martin Schmidt is a soft-spoken, easy-going guy who speaks sincerely and deeply about life and humanity. Having only moved to the Sechelt area from Hamilton, ON, a little over a year ago to be closer to his daughter, Martin described a pretty typical life living with his wife and having what they needed to live comfortably. But then tragedy struck. 
"This time last year, she [my wife] got diagnosed with cancer and from her diagnosis, which was on April 20th, our 16th anniversary, three weeks later in May, we lost her," explains Martin with tears on his cheeks. "No matter your background or wealth, our lives can change in the blink of an eye."
Despite suffering a terrible loss, Martin was still committed to moving closer to his daughter and made his way to Sechelt. He had arrangements to stay with his father-in-law, but unfortunately, those arrangements had unforeseen difficulties. Not long after arriving, Martin realized he couldn't stay with his father-in-law and found himself with very few options and resources, and became unhoused. 
"So that was it. I just packed my stuff, and I left. I didn't have time to even look for another place," he explains. "So the first thing I did was just set up a tent with the other people that were in the tent city."
Welcomed into this new community, Martin gathered what materials he could to make himself as comfortable as possible. But it was not long before Martin found himself supporting others in need.
"We didn't have any kind of fall last year. It went from summer all the sudden to just right cold, and then a week after that, the snow hit," Martin recalls. 
"I don't know how it got so cold, so fast, and when Kelsey showed up, I remember it was so cold one night, and he had absolutely nowhere to go. He had no options, and he was going to try and sleep in a bed frame outside with a tarp overtop it. That's insanity!
"No matter your background or wealth, our lives can change in the blink of an eye."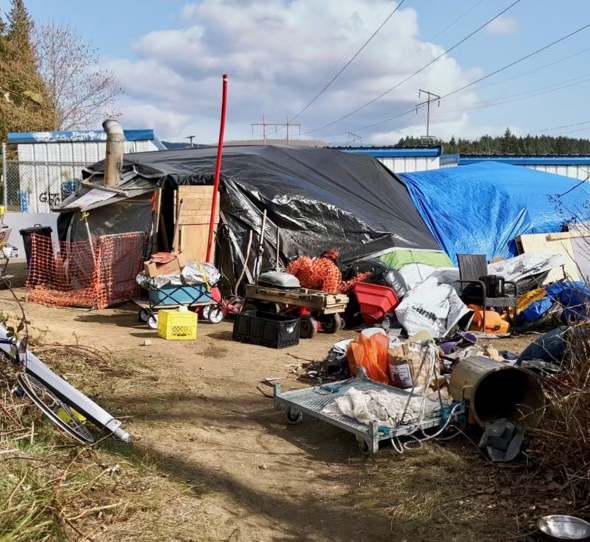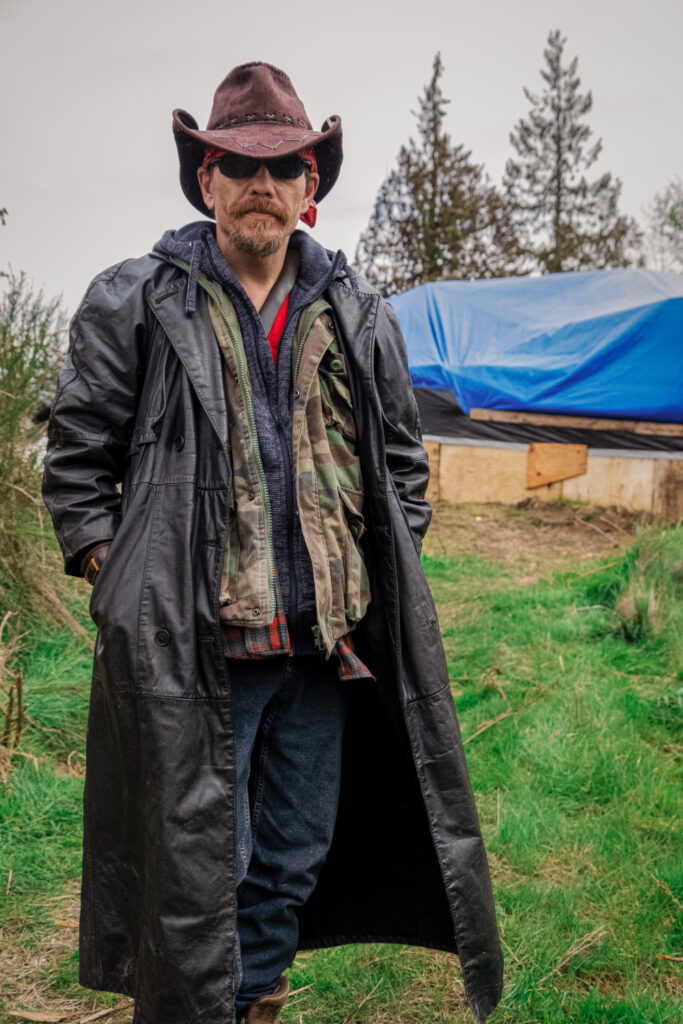 I had already built the bed that I had in there [tarp structure], which was quite awesome. It's a couple of twin mattresses with six inches of foam. I'd got maybe eight comforter-style blankets on top of that with a down comforter and then this giant fake sheep fur rug thing on top of it. It was so warm that I was just like, no, there's no way like you're gonna die out here. Get in the tent! And he's sort stuck with me all the way through and stayed here with me on and off, and we grew the crew from there."
Martin's kindness and unwillingness to let his new friend brace the elements alone has earned him a reputation in the community as someone to turn towards. He is someone who cares and will help when things get really tough. What was once a tent designed to keep himself safe and warm soon became known as the "tarp mansion," a large structure built on privately owned vacant land that was receiving a lot of local attention.
"I kept connecting with people with nowhere else to go, and everything had just collapsed in their world. They were stuck with nothing," says Martin.
"I said just come in, and we'll get the fire going, and we'll find something to eat. I'd had a couple of extra beds made up. Here is a place where you can sleep, and we will figure everything out in the morning. And the tent—it just got bigger and bigger and bigger."
Martin's story is just a glimpse into the challenges and willingness of folks living unhoused in our community to support each other through difficult times. Many struggle with addiction and mental health challenges, and some violence has also been reported. While Martin is a realist and acknowledges these challenges, he is also aware of the stigma and shame unhoused folks face and knows how important it is to address that reality.
"We've all got things about ourselves that we like and things about ourselves that we'd like to change," says Martin. "Anybody can fall on hard times. It doesn't matter where you come from or what your social standing is. At any given moment, things could change, and they did for me. 
I had a two-bedroom apartment that I left in Hamilton after my wife died. Things were going well for us before then. We had money, and everything was fine, and we were planning a trip across the country. But next thing you know, she was gone.
Today, it's not like I'm totally broke —I work two jobs. I'm back at work full-time roofing again. It's not like I'm just lazing around wasting doing nothing all the time. There just aren't many places to be able to try and find for a single guy to rent here. I did try and look for a little while."
Martin hopes his story can teach us that we are all vulnerable to hardship and that the kindness of others keeps us going — it even saves lives. As for the future, he hopes one day, he can afford to buy a large property where he can set up tiny homes and welcome folks from all walks of life who need a safe place to live. Until then, he will keep doing what he can.
Want to Support Locals with Housing?
Get Involved with Cover the Coast
Learn More
More Stories
Dawn and Tom are improving the livability of their community so folks have better access to services and affordable resources.
Read more
Chantelle wants to change the negative perception of people struggling with poverty, mental health challenges and addiction.
Read more